November brought some interesting decisions to be made for the exhibit. We were thinking of including some Lego kits in our exhibit. Specifically a Lego train set and the Lego wind turbine. Based on the first house model that I made it seems that a scale of 1:32 to 1:35 should do the trick. Lego mini figures are at a scale of 1:25 based on their width and 1:42 based on their height. This scale means they are quite short compared to the house but we figured that it should be okay. Laura and I are on the short side any way, so that would make the model quite accurate compared to our world.
The first step was to cut yet another prototype house model so that we can actually see if things will fit together and look realistic.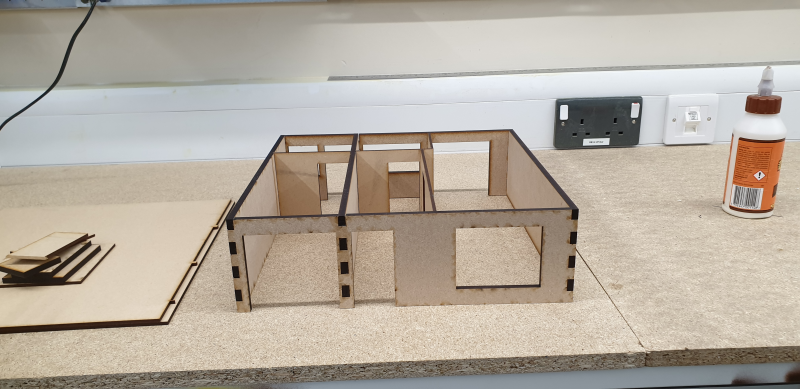 The ground floor of the house at scale 1:35.
The prototype looked good so our next step was to get Lego minifigures and confirm that short people will go well with the model house. We diarised "WES model – exhibition parts procurement" for Friday 22, 2019 – you can't stick "visit Lego shop" in your work diary, now can you?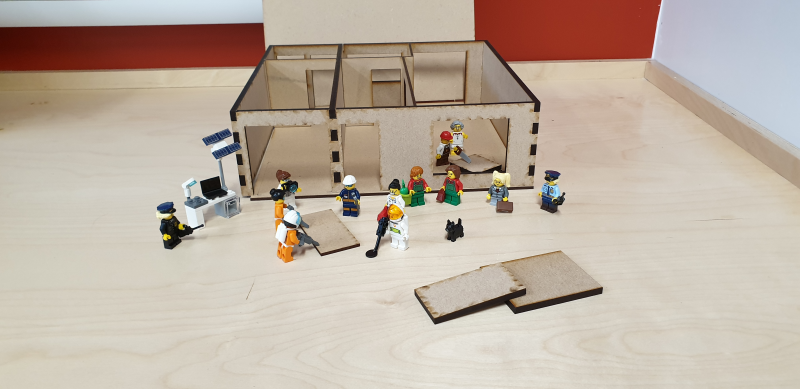 The Lego engineering ladies inspect the construction site.
I used Inkscape again for drawing the plans. One thing I discovered that is slightly tricky is getting the measurements correct for the slots and notches of the parts that fit together. I made the slots and nothces exactly 6mm by 12mm but somehow after it was cut there was a lot of space left on the sides. I would guess about 1mm which means that the laser cuts away about 0.5mm wood. For this model I used 6mm MDF. The plan is to cut some parts of the house from clear cast acrylic and some parts of wood. MDF is cheaper than Birch and I want to paint it when done. The clear parts will obviously allow one to see into the house.
So far, so good. Laura and I are pretty pleased with how things are working out.